4 Important Payment Processing Rules for Vacation Rentals
It's no secret that to keep a business running, the company has to make sure they're making money. It is not a simple task for vacation rental managers to maintain payment schedules, cancellations, future payments due, deposits, and declined or charged back cards or who wants a refund. A job like this requires constant organization and a structured plan. Here are 4 important payment processing rules for vacation rentals to follow to ensure that your payment systems run smoothly:
1. Look at what is happening in your specific market.
Acknowledge that not every payment option may be ideal for your business, but make it a point to know what is out there. Some companies accept payments in forms of credit cards, cash, checks, or even PayPal — find what works best for you and use it, but keep it as simple as possible. Try not to "shop around' so much and make every option available. Many vacation rental managers only need to accept credit cards (Visa/MasterCard/AMEX) and checks. PayPal, Venmo, and other methods are good, but try to stick to as few as possible, as most of your payments will come from credit and debit cards. Remaining consistent is a critical factor in business, and straying too far might end up confusing your employees, as well as your regular clients. Too many options will also bury you when it comes to reconciling fees and various costs for processing.
2. Stick to the 30 days out rule.
It is not necessarily a rule as it is an entirely practical direction to stay on. Ensure that you charge and receive final payment at least 30 days before their arrival. The truth of the matter is that you do not know when a traveler is fibbing when they say that they prefer to pay you when they get paid in a week — if they don't pay, you just blocked every other lead to rent that property for those dates for someone who could end up being a problem later. If they can't afford it at the planning stage, they likely shouldn't rent the property. Situations at home could cost them unexpectedly, and when it is time for your final payment, they cancel last minute and that entire time that you and your team spent having the unit reserved was for nothing. It could end up costing you big time if you can't re-book the unit at similar rates and hurt quite a bit if you lose a property over the deal because an owner gets upset. Create the rules and timelines and look at it as a filter to weed out potential problems with guests who can't pay on your schedule. Don't bend on payment terms to get more guests. It will not end well. If you need more guests, you need better marketing or better inventory.
Taking payment 30 days before essentially becomes a buffer to your business. Should the client have to cancel or something unexpected happens, you and your property owner still have the revenue for those nights that get very difficult to book last minute. The idea that it might be a peak season booking should also play a role in the time that you accept payment. You always have the option to up the ante and add days to this as you see fit to add extra protection.
If being firm isn't your style, just know that after the dust settles you can always provide a partial or full refund if you were able to recover the booking. Those situations are case by case, but you always want to follow the golden rule: "He who has the gold makes the rules." So, set the rules so that you have the money and protect yourself and the property owner FIRST, then work out something with the guests that cancel or don't pay on time later if you like.
3. Pay at time of check-in? Please don't do it.
Remember that your time is valuable, as well as your vacation rental properties. See to it that you and your team never accept payments at check-in for any reason. Not only does it take a lot of extra time, but if your guest shows up and they mention that they cannot pay, then you just lost all opportunity to book that property for those days. Anything can happen, but when it comes to your money (payments) be sure to set firm rules and stick to them!
4. What about checks or PayPal?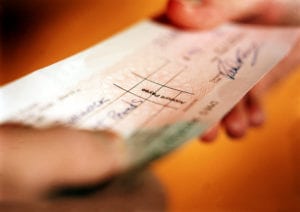 Regardless of the method, you want to make sure that the payment is cleared and in your bank with a nice buffer (30+ days). For PayPal, we recommend payment 45 days before just in case. It is easier to settle a dispute or issue if you charge the guest 45 days before the actual reservation date and they attempt to deny the transaction after they leave town.
Here at Vacation Rental University, we aim to make sure that you learn everything possible so that you can learn from our mistakes and avoid making them yourself! Join VRU and check out all our lessons to learn more!